Sunday Worship at 10 am
All are warmly invited and welcome to enjoy morning tea, coffee & fellowship after the Service.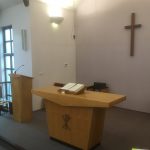 Holy Communion is celebrated on the 1st Sunday of the month.
Contact us: holytrinityurchurch@gmail.com
Welcome back to 10.00am Services,
 JOIN US FOR Easter Sunday 4th APRIL
Go to: holytrinityperivaleurc.org.uk website
for a virtual United Reformed Church Sunday Service from 10.00am on Sundays.